Performance @ Public Venues 2007 – 2009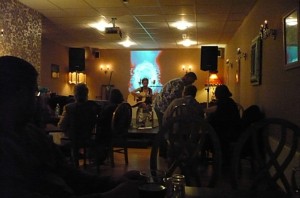 Performance
2007 – 2009 @ Public Venues, Co. Leitrim, Ireland.
Ballinamore Community Hall – One Leitrim, One People Concert.
Midlands Music Festival – Small Stage, mind / body / spirit area.
McGirl's Bar, Ballinamore, Co. Leitrim (support Hippie Night)
McGirls's Sessions (regular)
Moo Wine Bar, Ballinamore – Joan Walsh and Guests monthly.
Moo Wine Bar (fundraiser The Shannon Erne Writers' Group)
Moo Wine Bar (support Stefan Koppenal & Co.)
The Mayflower, Drumshanbo, Co. Leitrim – The Frost is All Over Concert.
  1993 – 1998            1999 – 2004            2007 – 2009           2010 – 2011
Joan Walsh 2014