As you know, John had a great turn of phrase, a way of looking at life, a sense of humour (dry wit) and keen observation, mimicry (he was an amazing mimic), philosophy and psychology. He had a great ability to recall people and events; he was the keeper and teller of stories. But you had to catch him in the mood and it always seemed to be this time of year, the end of April when all blossoms and new green leaves were out, blue skies and April showers the stories were told and the veil between the now and the past was most thin and most heartfelt for him.
The biscuit tin would be taken out and put on the table, crackers and cheese, the light allowed to fade beyond dusk and only then candles would be lit. And he would talk about all these people and situations long gone, their struggles. All the names and personalities only he could so easily remember and describe his own unique way. (Two come to mind, like the man swirling the one drink at the bar all evening to make it last as that was all he could afford. Or the man drunk unhobbling his horse and cart outside and letting the horse drive him home)
20 years ago, during one of these moments I asked him it would be good to record him talking and telling these stories (with the intention of transcribing into book form. It was important), but how and when to catch the moment. It was not easy. 10 years ago I mentioned it again and he was open to 'give it a go'. (He told me he was starting to list down events to talk about) But then I could not. He could not. We never did. Now all the actors and director have graciously bowed from the stage. His bore witness held a space for these lives and struggles and wrote their lives and his life in the fabric of the cosmos.
In his life, John shook the hands of two great men. He was part of an Irish trade delegation to America in the early 60's. He stood on the lawn of the White House and shook John F. Kennedy's hand and asked after his children. Both John's then had a dream for a better and sovereign world.
For many years John did business and became friends with the Major of Bethlehem, Mr. Fridge. John with Barbara finally went to visit in 1969 and became so aware (even more so) of the plight of the Palestinian people. Many decades later John happened to be sitting in the lobby of Jury's Hotel when Yasser Arafat walked in through the front doors. John stood up and walked over to Yasser Arafat and shook his hand.
Ah, Love! Could you and I with Fate conspire
To grasp this sorry Scheme of Things entire,
Would not we shatter it to bits – and then
Re-mould it nearer to the Heart's Desire!

(Quote taken from The Rubaiyat of Omar Khayyam.  John was a man of many quotes and this was one of them.)
John was, is and will forever be – The rolling in of waves on the stony shore of the North Strand (Skerries) and all seashores. The breathing in and breathing out. The call of seagulls. His essence is there. The wind making the mast sail wires chime. He is there in the bright curtain of lightening lighting up the night horizon as we walked close to the sea wall. His is the counting of the seconds between the double flash of light of Rockabills (Lighthouse) lantern. He is singing the song 'Smoke gets in your eyes' while we look out towards the Mourne mountains. The freewheeling down the hill out of Skerries on his black bicycle on the Balbriggan road, me sat up on a cushion on the cross bar. John presence is in the full stretch of the Dublin mountains, and on Dublin streets (the turning of a corner on Dublin streets).
Thank you John for being you, for being here, for being me Da and my father. You had a good life because you made it so, you had a hard life because you are human. John – you mattered, you made a difference in this world, you live on. Journey well John. Journey well. 
Joan Walsh, 1st May 2015
(Note – I have added edits in brackets I might have added if I had had a chance to)
My speech for my father John C. Walsh of Rathfarnham Village, Dublin on the 1st May 2015 at his Humanist service, Victorian Chapel, Mt. Jerome, Dublin. All of John's sons and daughters (Aine, Sean, Berni, Joan, Stephen) stood up and read their own tribute to him. The Chapel was packed. He was given a great send off at his wake in his home and the day of his funeral. He is and will be missed by many.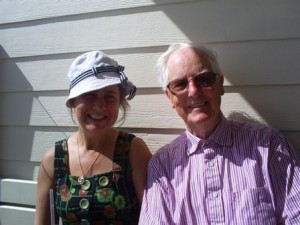 Joan Walsh 2015