The Audacity Project explanation –
Using the software Audacity, I am in the process of recording Cassette Tapes and Mini-discs of recordings my work – from analogue into digital and saved to my external hard drive.
What will they include –
Songs I recorded on Cassette Tapes and Mini-discs. These include a number of Radio Shows I was on in the 1990's; one live performance in the Dame Tavern recorded by Frank Jacobsen; Studio recording sessions – West One Studio, Galway, S.T.S, Millbrook Studios, and Robbie Dunne, Cathedral Studios, Dublin; two 'Demo' Cassettes Tapes Heavy Burdens (1994), The Cailleach (1995); home recordings in the 1997 and 2002.
(The big box of working tapes will have to wait for a very long rainy day, the early ones recorded on a well dodgey grinding tape deck)
I have 3 DAT tapes too, which have just been transferred to digital WAV. The DAT tapes are from the original studio recordings which were done on big reel to reel master tapes and they are well gone.
Other work already in Digital form on PC and CD –
Two more CDs that I 'published', more like copied via my PC onto CD and made up, printed and added covers – Gone Travelling (1999), Joan's own Bootleg – Songs from the Soul / Sole (2008). A number of unmastered songs of mine recorded and saved on CD elsewhere before the C drive crashed. There were a few more songs recorded, but unsaved on CD, so they went with the C Drive crash (2007). Biddy Early – recorded at Lake Recording (2009). All the digital recordings, I have now converted to WAV.
Where I am at with this now –
A few weeks into this – one Tape deck and one Hi-Fi combo that has a mini-disc player – line in cable from phones to line-in into PC; Audacity Software; files saved in aud format on external drive. Line in jack from the Phones to PC line in is not the best, but that is what I have to work with here.
Some of the Cassettes Tapes have been corrupted by time.. The original Cassette Tapes of Radio shows have disappeared, which is very odd, but thankfully I had taken a mini-disc copy of them sometime in the 2000's.
(Who's Dermot? I was recording a tape here I recorded at home in 1997 while I write this Page, and I've just come to the end of it and it seems I was putting together 12 tracks to record properly somewhere and this was a tape to give to Dermot. A bass player called Dermot?)
What's next –
Continue this task, until all is recorded and saved digitally with Audacity. Next, go back over each to edit and normalise, maybe some noise removal, though to be honest noise removal on the tape recordings, as in, the sound of the tape recorder effects the vocals, so I think I will leave as close to the original recording, tape deck noise and all. I have tried to keep the recording level as best I can to not peak, but a sneaky peak gets in there here and there. I'll see as I go along. Re-save all the recordings as MP3's.
What to expect –
To hear them.
Where and How –
Here.
But by what vehicle, I am not sure yet. Ideally I would upload them to my website and have them on a player. So an external Player and plugin like jw player or soundcloud? I would prefer not to. And how much will I share? I am not too sure at this stage. Start with the radio shows and work from there.
The Work

Published Work – Cassette Tapes and CDs 1994 – 2009 –
With the use of a tape to tape machine, and burning tracks from PC to CDs..that's as fancy as it got. All Tracks on Tapes and CDs recorded in various Recording Studios. To honour where I've been – part of it..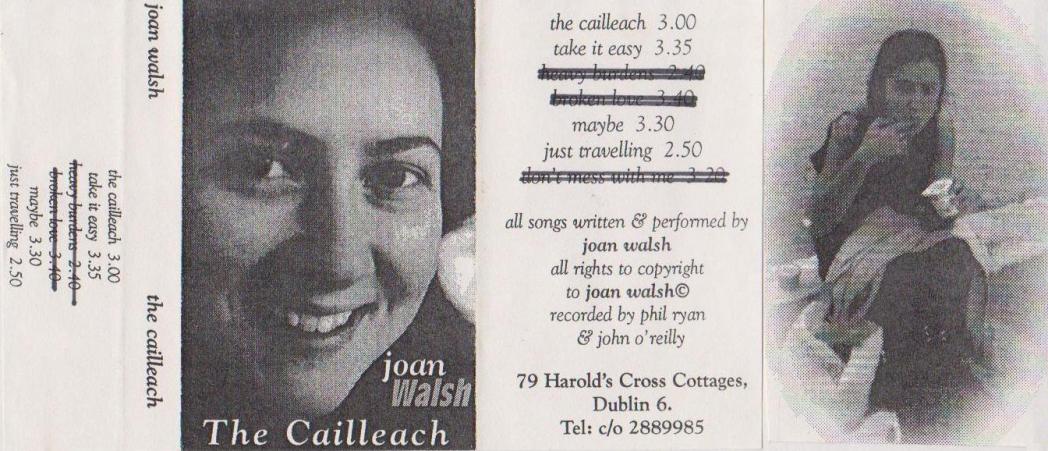 Home Recordings –
Meanwhile..some Mini-discs and Tapes to be Audacitized (there are alot more besides these ones too).
These are The Home Recordings. Sat down and sang all my songs, and recorded them. 1997 on Tape (12 tracks). 2002 on Mini-Disc (all songs more or less). The Mini-disc player later got nicked in an Istanbul hostel.
Radio and Performance recordings –
These are the four Radio and one live performance recordings. Copied onto Mini-disc from the original cassette tapes. Now transferred into digital using Audacity. See below.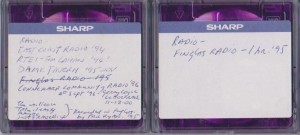 Many thanks to the designers and makers of the Audacity software, and making it available on-line to download for everyone. Now I better get back to this Audacity task at hand, and stop fiddling around with scans of my CDs and Tapes. That job is done.
This is going to take some time.
I have to figure an appropriate vehicle for them all. Maybe I need to add a Tips button of a busker's guitar case for tips / 'donations' / Payment. Plus, payment for downloads. It is only right to do so. I have put the radio shows straight onto my website, but am unsure was that the right thing to do or should I have used some other format / player to do that. I will leave as is for now on those. Now at present I am researching audio plugins, and a payment gateway.
All my work is now transferred into digital. I need to listen to them; make them into individual tracks and edit them as best I can; save as MP3 (and OGG files possibly). Some I may need to redo / re-record with Audacity, as the levels are either too high or too low on some of the songs. This is going to take some time..
A huge amount of time has been taken up with research and 'how to' and trying to find answers and getting some and some not, and how long is a piece of string… and I really need to get back to going through all the songs / tracks and getting them sorted and done, which is going to take time also of course. I don't mind doing the work, it's enjoyable, though exhausting at times, glued to the PC. Better than working in a coal mine though.
Joan Walsh July 2014
Dec 2015 – all work has stopped on this since Aug 2014. I will get back to it when I can.