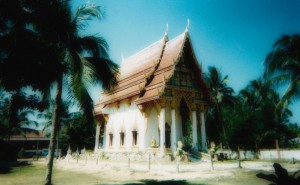 Foreign Affairs is another short story I wrote about Thailand in 2005. On one aspect of the trip. Something people can't help but think of when they put the words Western men and Thailand together. Another true story. I wrote it when I returned to Ireland that Spring 2005. As I reread these stories the other day I was chuckling and saying, oh lord, oh no, oh don't go there.
Joan Walsh 2016
Foreign Affairs
Spring 2005, Thailand
My last afternoon in Bangkok had me making bitter eyes at Western men as I passed them. 'Boys'. They'll never grow up and take responsibility for themselves.. these boys. Before, it hadn't bothered me too much, I swear. It was after all their business and they could keep it, but I was curious about the whole parade: this pavement parade of older Western men and young Thai women. Some men were with sassy and strong women who knew exactly who they were and what they wanted: money and power. Some were genuine equal couples who were the best of friends and had a strong affinity for each other: love, respect and companionship. But alot of the men were with small women always being held by the hand and always hanging back behind their western man on the busy pavements of Bangkok: victim and lost. These were the ones I felt for: what was their story? What did they have to bear? What nightmare were they living through? What baggage were they carrying for these men when these men needed to be crying their eyes out dealing with their stuff and not get some woman to yet again rescue them from themselves? How come these guys get it so easy: 'cos they have money and they are willing to use it? And God help me I was fed up seeing men getting emotionally propped up by women: especially by ones who have no choice in this country other than to be victims to get money. That afternoon had me bitter. And I needed some propping up myself – I was just tried of it all.
A week before as I sat at a roadside table up on the pavement eating my dinner in a local district – two Japanese young men arrived and sat opposite each other to have a beer. Tall Leo bottles of beer and a bucket of ice, their elbows on the table, hands held up at their chins. A Thai woman with them sat to the far edge of the table. I'd seen it all before: the uncomfortable motions the women went through: fixing her shoe that didn't need fixing; then the mobile phone out to text friends, to look busy: all to fill in the space that she was being excluded from the conversation and more besides. That sitting on unexpressed anger – I had known it so well. Damn sister why put up with it – these f…ing boys they don't know shit and they think they know it all and have it made. Ya right, they have nothing. I sat and tried to concentrate on just eating. It was none of my business. It was my business! – I was a woman and I was witnessing one of my own being belittled. Oh sister why do it? I smiled at her and continued to eat. Yes it was up to her to put a stop to it – but maybe she didn't know she had a choice. Maybe she didn't have a choice 'cos of money? Eastern values, western values, my values. No just concentrate on the food. I kept looking up to see if the lads had finally acknowledged her, included her. No, she was still going through all that repressed coping motions. I caught her eye and suddenly found myself mouthing and making eyes about the behaviour of the macho men and their bravado stance at the table with their elbows up and them talking all sorts of serious nonsense. She laughed out loud. We shared the joke together for a moment. The men looked around to see where the entertainment was coming from that had included their woman.
I stood up and walked towards them, asked them did they speak English. Yes. You would think I would not get shaky, but I did as I said: "I cannot bear it! I'm sitting over there watching the way you have this beautiful woman sitting with you and you have her half way off the pavement, as if she doesn't exist. Please include her at your table properly." They just looked at me as I ranted and didn't budge an inch. Their macho minds could not comprehend this concept. But the woman knew what I was about and laughed. ? Laughed that I had belittled her men, said what she really would have loved to have said if she had a wallet full of notes to travel the world on her own steam. Laughed? The men did not laugh, not even a smile. I turned on my flip-flop heel and sat down, shaking. I had not managed to get them to include her at their table fully. To respect her. I had spoken to a wall.
A woman came to mind, sitting at a table with her man under a big green spreading tree on White Sands beach, Kho Chang Island. A beautiful tall woman doing exactly the same: fixing her shoe that didn't need fixing; checking her mobile phone that didn't need to be checked. All because her Englishman was on his mobile phone droning on for ages about stocks and shares behind his wrap around mirror sunglasses. Unavailable, boring, stiff as a post, white lizard man – that was all he was and he thought he had the power and was the bee's knees. Power my shite. I observed this from my white seat out on the beach by the bar. I was just visiting here from further down the island. It was more crowded this part of the island: more men with their Thai woman. I wondered what part of the country the women came from, maybe the north east: hard times in the dry fields of the north east, the grandparents looking after their children. I wondered where the men came from. What was their story?
In the newly opened Irish bar in Phnom Phen, Cambodia, I shared a beer and conversation with a board shouldered, short legged, friendly Canadian father and his skinny son. The twenty-four year old son had just recently overcome a serious cancer operation and was anxious to get married to a Filipino woman he knew. He had just come back from ploughing fields and helping out on the woman's family land. All he really wanted was to have a settled and secure normal family life with one woman, unlike his father. I wished him luck. His father told me when each of his sons were seventeen he had bought them to Thailand to sample and initiate them into the fruits of Thai brothels. Man, what a thing to do I thought. He also informed me that when he had first married he had to have sex twelve times a day and many lovers also. This had been the home his son had been brought up in, maybe no wonder the son just wanted something different.
"Do you realise you were a sex addict and a predator" I said. "Your ex-wife hadn't a chance, no wonder she 'shut-down'".
"Oh I can take it or leave it now" he replied, "maybe I was a sex addict, but once I had all the woman crying at one brothel that I had frequented for a number of weeks 'cos I was leaving".
More likely it was the end of earning 'good' money off this man, which the women were crying about than his physical attributes: of which I could see none as I looked at him sitting under the shields of all the counties of Ireland that decorated the bar; he was overweight, stocky and pink.
As I sat talking to a Khmer fluent English man out at a pavement table in Battenbong, Cambodia, he told me that the employees of UNICEF finally got told off by their employers for parking their UNICEF Jeep outside the obvious windmill lit brothel down the street. And what does UNICEF stand for? Remind me.
My last evening in Bangkok had me sweating as usual as I stepped into the cool taxi that was to take me to the airport. Beyond the airport doors I left behind humidity, smog, the parade of Western men and Thai women, the humanity and smiles, and the inhumanity. I was grateful I could at least physically leave it all behind. Back home hidden away in Ireland it's all the 'same, same but different'.         –  Joan Walsh Foreign Affairs © 2005
Joan Walsh 2016
Possible Jet Lag              Foreign Affairs              Good Fortune